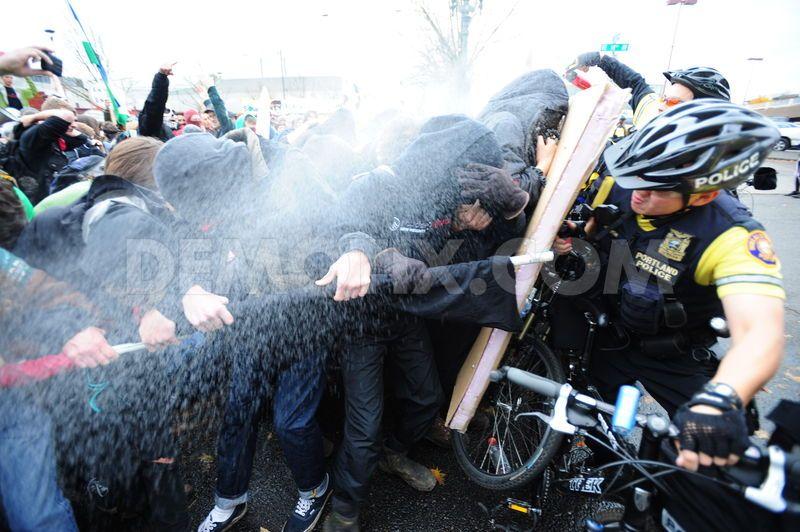 This is a letter of love and admiration for the wild and courageous high school students who battled the Portland Police in the streets on November 3rd. Some of you took pepper spray directly to the face at close range, some of you pushed forward against cops behind your sturdy banners, and you all displayed an inspiring ferocity that has sadly been few and far between in Portland since last spring.
At times this town can seem suffocated by mangerial activists, specialists in revolt who seek to orchestrate every act of rebellion in order to advance their own resumes. But you are living proof that despite this recuperative force, there will always be the youthful, wild, uncontrollable ones. Keep it up! Push conflict with authority – no matter how "revolutionary" it may portray itself – to the extreme!
I encourage you to build on this experience of fighting together in the streets. Where can you go from here? Are there other places in your lives that you can use your shared subjectivity to attack that which attempts to control you? There are lots of different ways to build trust and affinity with each other. Don't limit yourself to pre-announced marches in the streets. If you use your creativity, you will find infinite possibilities for taking your lives back, both open and clandestine. Flash mobs at grocery stores – nighttime smashy-smashy – reading groups to sharpen your critique – illegal dance parties – graffiti – wheatpasting propaganda everywhere – refuse to pay for tri-met – these are just a few ideas. I believe the slop that barely passes for food in Portland Public Schools cafeterias is provided by Aramark, the prison profiteers, I'm sure you could think of some way to sabotage their operations. The possibilities are endless.
If this is your first experience in the streets, welcome. You may soon find that you can't get enough. If you've been at this for a while, congratulations, you're getting a much earlier start than I did. In this time of extreme repression in the NW, your refusal of submission is a beacon of light.
Love and solidarity,
a Portland anarchist under the gun